Published on novembre 18th, 2013 | by Raffaella Capritti
0
ANTRAX

Made in Italy
Production: Radiators and fireplaces

Radiators, towel warmers, and fireplaces: warmth enters the home in numerous ways and in innovative forms
Antrax IT — a recently founded company specialized in the production of radiators and fireplaces — has made quality its primary goal, from the very outset using cutting-edge production technology and internationally renowned designers like Andrea Crosetta, Dante O. Benini e Luca Gonzo, Francesco Lucchese, Massimo Iosa Ghini, Matteo Thun and Antonio Rodriguez, Simone Micheli and Peter Rankin.
And this focus has been rewarded by great results, not only in terms of market and sales — in just four years the brand achieved international acclaim and the product lines multiplied — but also by the official recognition of the international design community, as demonstrated by the special distinctions and prizes awarded to its products, during prestigious Italian and foreign events.
This is the case for Tubone, the basic, linear radiator designed by Andrea Crosetta: first prize at the 'Bañeo 2007' international industrial design competition, organized by Valencia Exhibition Center during the 'Cevisama Exhibition'; awarded the Oderzo prize by Unindustria, Tubone was also selected by the ADI Design Index 2006 and received mention in the 21st edition of the prestigious 'Premio Compasso d'Oro'.
Multi functionality is also key to Saturn & Moon, radiator designed by Peter Rankin, winner of the 'Best Design 2006' award: a spherical radiating element (in the Moon version), with a plastic, sculpted appearance but whose built-in bar also makes it a practical towel warmer (Saturn).
Versatility and elegance are also the distinguishing features of Vu, designed by Massimo Iosa Ghini, an innovative solution in step with contemporary living.
Vu is currently on display at 'Neue Sammlung', the new applied art collection at the Munich Art Gallery, which now houses over 60,000 objects of industrial design, graphic design and artistic craftsmanship, making it one of the 20th century's most important art museums.
Designed by Francesco Lucchese, Zero-Otto offers a new concept in designer heating where aesthetics are blended with functionality and the thrill of use and ownership. The radiator was selected for the ADI Design Index 2008; in 2009 it won the Design Plus prize and in 2010 the Red Dot design awards.
Together with Vu, Moon, Tubone and the other Antrax IT radiators, Zero-Otto has been included in 'Totally Rad: Karim Rashid does radiators', a 2009 exhibit at the MAD Museum of Arts and Design in New York.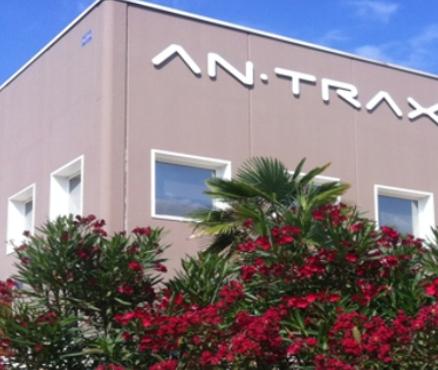 Despite the fact that it is a young company, Antrax has consolidated its position as a leader in the field of designer heating, expression of the undisputed vitality and uniqueness of Italian style and quality.
This dynamism is also demonstrated in its advertising and communications, such as the company's participation in international trade shows, events, exhibitions, etc.
At the latest shows, the company has presented two new designer heaters, Oreste&Emma by Andrea Crosetta, a pair of iconographic radiators conceived to impart warmth with an added touch of cheer, and Teso by Dante O. Benini and Luca Gonzo, a warm travel companion, a discrete, accommodating friend that keeps things nice and tidy, offering a heaven-sent point where any source of disorder can be easily tucked away.
In October 2009 Antrax IT opened its new store in Athens, the first in a whole series of new flagship stores which the company is planning to open in the major European cities, before moving next into America and the Far East.
Tags: fireplaces, Radiators, towel warmers
INFORMATION REQUEST
Fill out the form to request information from ANTRAX IT S.R.L.