Published on luglio 1st, 2014 | by Raffaella Capritti
0
via Alta, 10 - 30020 Marcon (VE) - ITALY
Phone +39 041 4569322 - Fax +39 041 5950153
MARCOTECH AU 3D

Made in Italy
Water-based acrylic urethane satin finish for cement floors: series 317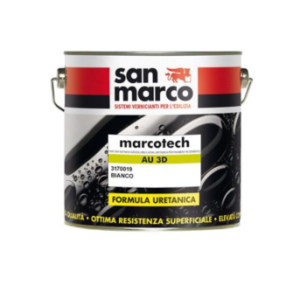 Single-component finish with low thickness for indoor/outdoor cement floors.
The formulation is based on acrylic-urethane resins in aqueous dispersion and coloured pigments that are highly resistant to light and yellowing, thus making San Marco MARCOTECH AU 3D ideal for warehouses, exhibition halls, showrooms, waiting rooms, home garages.
The product is also suitable for painting indoor walls offering good abrasion resistance and mechanical performances, and is easily cleaned.
High surface hardness, resistant to abrasions, scratches and repeated trampling, resistant to hot tyres.
Excellent chemical resistance in contact with gasoline, petrol and various solvents. Dirt and grime do not penetrate into the finish which remains intact over time.
Excellent surface adhesion.
Easy to clean
Fast drying
Tags: Cement, cement floors, colorificio san marco, MARCOTECH AU 3D, san marco, Water based top coats and primers, water-based, Water-based acrylic urethane satin finish, Water-based acrylic urethane satin finish for cement floors
INFORMATION REQUEST
Fill out the form to request information from COLORIFICIO SAN MARCO S.P.A.