Published on giugno 30th, 2014 | by Raffaella Capritti
0
Via Isola di Sopra, 28 - 39044 Egna (BZ) - ITALY
Phone +39 0471 827500 - Fax +39 0471 827555
ROLL FLEX TOP

Made in Italy
…the perfect connection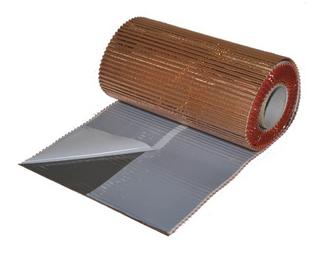 The three-dimensional connection that seals, waterproofs and adapts perfectly around any discontinuity in the roof covering.
Description and use

pleated strip with three-dimensional structure that guarantees maximum laying malleability and flexibility.
Thanks to its three-dimensional structure Roll Flex TOP can be moulded in any direction.
Riwega Roll Flex TOP is available in three versions: aluminium, lead and copper.
In the aluminium and lead versions, the metal surface is pre-coated with powder based paints which are resistant to UVA rays and to atmospheric agents.
The internal side is uniformly coated with a special butyl adhesive protected by a silicone liner pre-cut in half lengthwise. Roll Flex TOP is ideal for waterproofing and for sealing all roof passages and connections: dormer windows, chimneys, walls, skylights, attic windows, valleys and eaves.
Tags: aluminium, copper., lead, Pleated strip, ROLL FLEX TOP, Water-proofing
INFORMATION REQUEST
Fill out the form to request information from RIWEGA S.R.L.