Published on luglio 21st, 2014 | by Raffaella Capritti
0
SCHÜCO FW 50 + AOS

Made in Italy
Schüco Steel Systems - your expert partners for façades.
Façades and Skylights: combining creativity and high-tech
Façades are the central unit in the planning and design of building envelopes.
Here, Schüco offers a variety of systems, which allow even the most innovative façade concepts to be realised supremely well architecturally: from window façades with a perfect appearance to impressive structural glazing and high-tech synergy façades.
Key benefits:
Complete profile systems in aluminium and steel
All façade types, including twin wall façades
Almost all skylight geometries
Window units in all opening types
Passive and active solar shading systems
Innovative façade management technology
State of the art protection against fire and smoke
Façade constructions in all resistance classes
The extensive range of profile systems from Schüco and Schüco Jansen Steel Systems allows the conceptual design of a wide variety of façades – in aluminium or steel. The variety of options within the systems offers architects and developers considerable scope for creativity. And custom solutions, based on proven systems, can of course also be implemented. Welcome to the world of Schüco systems!
Aluminium Systems for Façades and Skylights
Energy-efficient designs will determine the future of construction. Solutions for façades and skylights that harmonise architectural and technological demands will therefore play a key role.
Here, Schüco already offers a unique aluminium modular system with which architects, planners and fabricators can also meet the highest requirements in terms of energy, security, automation and design. From mullion/transom façades using steel and timber add-on constructions to structural glazing and unitised façades – including a wide variety of systems for opening units that can be integrated.
Add-on constructions
Impressive architecture can also be achieved using a different choice of materials.
The best example of this is the thermally insulated Schüco steel and timber add-on constructions for vertical façades or skylights.
Technically and architecturally impressive solutions are used to create distinctive designs: an aesthetically interesting combination of aluminium and timber or slender steel load-bearing structures with a hightech look.
Another area of use for Schüco add-on constructions is skylights with variable timber or slimline steel load-bearing structures.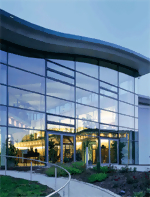 In this case, the enormous variety of possible shapes and a wide range of possible applications is the most impressive feature of the system.
Since the add-on constructions can be perfectly combined with Schüco roof vents, they are ideally suited to glazed roofing and conservatories.
All add-on constructions allow maximum module formats and also span large areas.
A wide range of aluminium cover caps enhances the range of design options.
Schüco FW 50+ AOS: Steel add-on constructions
The thermally insulated steel add-on constructions Schüco FW 50+ AOS and FW 60+ AOS provide architects and planners with greater scope for the design of vertical façades as well as skylights and roof glazing (only FW 60+ AOS) with slimline steel load-bearing structures. Therefore, the extensive range of aluminium cover caps also fulfils the most demanding design requirements.
Features and benefits
Large module formats for perfect lighting conditions
Glass loads up to 600 kg are possible
Thermally insulated, for vertical façades as well as skylights and roof glazing (Schüco FW 60+ AOS only)
Wide range of options by using aluminium cover caps from the standard Schüco FW 50+ / FW 60+ series, including visible screw-fitted, flat cover caps or steel-look cover caps.
Can also be faceted inward or outward on faceted constructions
Integration of Schüco solar shading constructions using system-specific fixing technology
Tags: ADD-ON CONSTRUCTION FW 50+ AOS, Add-on constructions, aluminium, Aluminium Systems, façades, SCHÜCO, Skylights, Steel add-on constructions, thermally insulated steel, Wall cladding system
INFORMATION REQUEST
Fill out the form to request information from SCHÜCO INTERNATIONAL ITALIA S.R.L.