Published on novembre 18th, 2013 | by Sara Leonardi
0
Via Giuseppe Di Vittorio, 41B - 43044 Lemignano di Collecchio (PR)
Phone +39 0521 334302 - Fax +39 0521 804772
SEE&SHOOT

Made in Italy
See&Shoot for soil consolidation by resins injection
See&Shoot is an efficacious method for soil consolidation by resins injection.
This method is designed to combat differential subsidence in buildings. It is rapid (on average only a few days are required) and it provides an effective solution without the need for digging, dust and bothersome vibrations. Geosec injects the Maxima resin into the ground targeting the areas indicated by the geological model obtained from the combined results of the Electrical Resitivity Tomography investigation (ERT 3D).
Thanks to the 3D geological investigation, See&Shoot is immediately able to detect, in the ground under the foundations, the presence of voids, stagnant water, fluid in circulation also from sewer leaks, all factors that are effective contributing causes of subsidence. During the injection, thanks to the electrical resistivity tomography, it will be possible to ensure that the macro voids and cavities are being properly filled, that the interstitial water is being reduced and removed, as well as to gauge the volume of land affected by the filtering and expanding action of the resin. Further tests with the penetrometer will, on the other hand, enable the measuring of the mechanical resistance of the consolidated ground. Each operation is different from the one before and for this reason Geosec, reinforced by its many years of experience, guarantees for all of the operations – even the most minor ones – the constant presence on-site of a specialized Geologist and integrated diagnostic tools (geophysical ERT 3D + penetrometric tests). This is the Geosec philosophy which produces hundreds of satisfied customers each year. See&Shoot (Patented) is an efficacious exclusive process which only Geosec can offer in Europe today.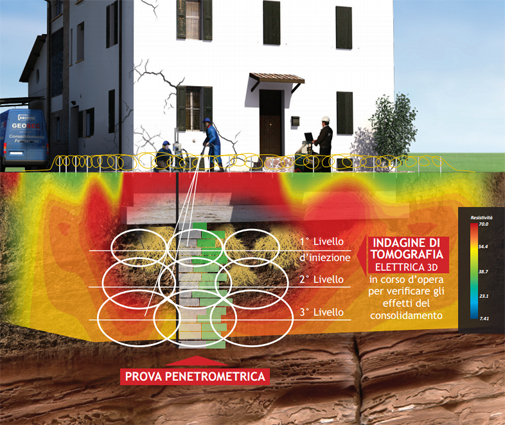 Tags: Consolidation, crack in the wall, foundations, ground consolidation, resin injection, soil bearing capacity, subsidence soil
INFORMATION REQUEST
Fill out the form to request information from GEOSEC S.R.L.