Published on giugno 18th, 2014 | by Raffaella Capritti
0
Via Serenissima, 30 - 31040 Gorgo al Monticano (TV) - ITALY
Phone +39 0422 2083 - Fax +39 0422 800234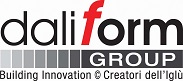 IGLU' VENTILATED ROOF

Made in Italy
Disposable formwork for sloped or flat ventilated roofs
IGLU' VENTILATED ROOF BY DALIFORM GROUP
An increasingly important topic over the past few years has been the excessive amount of energy used by buildings, a use that can be considerably reduced through roof ventilation achieved by using Iglu'® ventilated roof.
By placing Iglu'® ventilated roof formworks on the building's horizontal roof, an air cavity is created that insulates from the heat in the summer and from the cold in the winter, resulting in savings in indoor air conditioning.
The accumulation of heat in the summer and low winter temperatures with the formation of condensation and mold, are phenomena that can find a valid solution with the adoption of a ventilated roof with Iglu'® ventilated roof, a system that promotes continuous air flow inside the under-covering.
Advantages
The realization of a ventilated roof (flat and pitched roof) with Iglu'® ventilated roof provides greater living comfort both in winter and summer, as well as improving the conservation of the materials forming the roof.
In the winter months, closing the ventilation with a simple register, it can isolate from the cold outside.
In the summer months it can reduce heating of the spaces below thanks to ventilation.
The ventilation also avoids moisture stagnation below the roof surface and thus prevents the formation of mold or other substances which may lead to a degradation of the structure.
Significant savings on energy consumption (heating/cooling).
The height of the interspace is to be determined in function of the technical characteristics of the roof, such as the type of coverage, the length and slope of the pitch and the local weather conditions.
Tests have been performed on roof ventilation using Iglu'® ventilated roof , in collaboration with the University of Malta, which have provided very valid results, combining a summer ventilation system with the closure of air inlets in winter, in order to create an insulating cavity.
In the winter, a condensation vacuum tied to specific registers can be prepared to avoid excess moisture inside the cavity.
Applications
The roof is a very important part of each building to ensure an effective response to environmental factors such as temperature fluctuations and weather.
The use of Iglu'® ventilated roof in residential, commercial, industrial or public buildings is essential to create:
comfortable attics

with the appropriate hygrothermal characteristics: the creation of an air gap of constant thickness is a brilliant design choice, compatible with any pitched roof in reinforced concrete.

flat roof terraces

so up to allow full exploitation of the surface of the built space.
Tags: comfortable attics, Construction site, DALIFORM, Disposable formwork, Disposable formwork for comfortable attics, Disposable formwork for flat roof terraces, flat roof terraces, IGLU' VENTILATED ROOF, roofing
INFORMATION REQUEST
Fill out the form to request information from DALIFORM GROUP SRL