Published on luglio 21st, 2014 | by Raffaella Capritti
0
Industrial zone, - 89843 Maierato (VA) - ITALY
Phone +390963/255814 - Fax +39 0963/255813
TRIAL VAL

Made in Italy
Aluminium windows
SPI innovative windows in aluminium with a polyamide thermal barrier which make traditional thermal break windows obsolete. Enhanced insulating performance, no maintenance, extreme customisation.
ENHANCED INSULATING PERFORMANCE
The polyamide thermal barrier and a special "heat kit" ensure higher insulating performance compared to classic thermal break aluminium frames.
CUSTOMISATION AND TWO-COLOUR CREATIONS
Trial Val windows can be customised in an infinite range of RAL colours and in wood look, and can be manufactured in different colours for the inside and the outside, in order to be able to comply with any restrictions on the walls.
FASTER INSTALLATION
The profile is narrower compared to traditional thermal break frames and therefore guarantees faster and simpler installation.
MAIN FEATURES OF THE SYSTEM
Structure in aluminium – polyamide – aluminium
Open joint system
Frame thickness from 44 mm
Multi-Matic Maico burglary-resistant hardware
Glass chamber from 30 mm
EPDM gaskets
L and Z frames from 30 mm
SERIES FEATURES
Spectrally selective glazing filled with argon gas
Third hidden hinge on semi-fixed sash
Bolt lock on secondary door
Safety glass on balcony-type windows without cross beams or up to one meter from ground level with cross beams.
Cross beam on balcony-type windows
Bottom rail on balcony-type windows
Thermal break sill
ADDITIONAL FEATURES
Micro-ventilation
Tilt-and-turn sash windows
Level opening on semi-fixed sash
Mechanism preventing incorrect operation
Thermal acoustic seal under glass
Level 1 to level 3 burglary-proof fittings
Special gaskets to increase heat performance
Thermal duct
Heat kit
Safety frames
Safety glass and triple glazing up to 30 mm thick
Tricoat fittings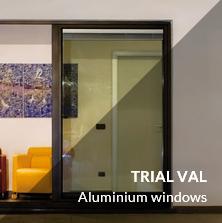 FIXED AND SHUTTER TYPES
Fixed glazing bead
Fixed false vent
Single vent window
Two vents window
Two vents French window with cross beams
Two vents French window with transom window
Tags: aluminium windows, SPI, TRIAL VAL, window, windows
INFORMATION REQUEST
Fill out the form to request information from SPI S.P.A.