Published on settembre 4th, 2015 | by Sara Leonardi
0
Via delle Industrie, 23 - 20884 Sulbiate (MB) - ITALY
Phone +39 039 6883166 - Fax +39 039 6883170
BASIC PARKDECK 0S11 A System

Made in Italy
Multilayered System with double membrane for multi-floor car parks
Description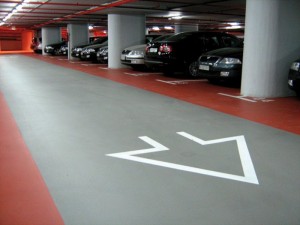 Basic Parkdeck 0S11 A is an elastic system specific for the realization of car parks decks according to Europarking certification EN 1062-7. The technique of impermeabilising outer face allows to obtain a prompt control and maintenance, without having recourse to demolition of damaged concrete where pouncing is becoming detached or damaged. The coating assures proofing against percolation of water, oils, and fuels.
Performance/Advantages
Resistance to rolling of tyres
Crack-bridging capacity of the membrane in acting as a bridge in the presence of possible fissures, also at low temperatures (up to – 20 °C), thus avoiding breakings in the subbase and assuring proofing at the same time
Continuity and flatness of surface with esthetical aspect and high functional characteristics
Anti-slip grades R11 (transit areas, parking space) and R12 – R13 (slopes, pads, curves and braking areas)
Luminescent aspect useful in case of lack of light
Reflecting finishing for columns, pavements and pedestrian precincts in dangerous areas
Use
External levels within multistorey car parks subjected to intense stress from transit
Covered garages with cracks
Platforms, walking floors bridges and coverings
Driveway floors
Download the data sheet
Tags: car parks, Coating, flooring, IPM Italia, resin flooring
INFORMATION REQUEST
Fill out the form to request information from IPM ITALIA S.R.L.