Published on settembre 4th, 2015 | by Sara Leonardi
0
Via delle Industrie, 23 - 20884 Sulbiate (MB) - ITALY
Phone +39 039 6883166 - Fax +39 039 6883170
U.D. GEO Draining System

Made in Italy
Eco-friendly draining system for outdoor
Description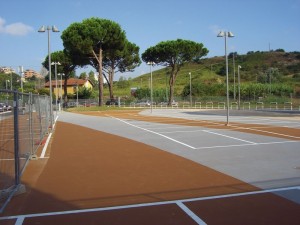 U.D. Geo Draining is an eco-friendly system, draining, breathable, with natural inert at sight. With incorporation of a polyurethane membrane of the type Parctec PU 1300 between subbase and U.D. Geo system, the coating becomes also impermeable. The system is certified for loads and friction coefficient. U.D. Geo Draining is realized with breathable formulas of new generation belonging to Aquatec Line, with zero VOC certification.
Performance/Advantages
Application on concrete supports, asphalt, tiles
Perfect integration in the old solution with natural grit, thus allowing to obtain a draining surface with lack of backwater
Anti-slip action in the presence of rain or ice without formation of a surface film
Resistance to high mechanical solicitations and thermal expansion
Resistance to freeze/thaw cycles and to the action of fluids anti-ice and the icing salts
Resistance to hydrocarbons
Use
Squares, avenues or common areas in public or private urban environment to recover
Surfaces requiring a finishing with natural grit in harmony with external environment
Covering of platforms or car parks also driveway located in public areas
Download the data sheet
Tags: Coating, concrete, concrete supports, IPM Italia
INFORMATION REQUEST
Fill out the form to request information from IPM ITALIA S.R.L.