Published on gennaio 4th, 2017 | by Raffaella Capritti
0
Via Jenner, 41/43 - 26837 Mulazzano (LO) - ITALY
Phone +39 02 98879353 - Fax +39 02 98875273
AF COLLAR

Made in Italy
Fire-rated element for the protection of combustible and insulated metal pipe penetrations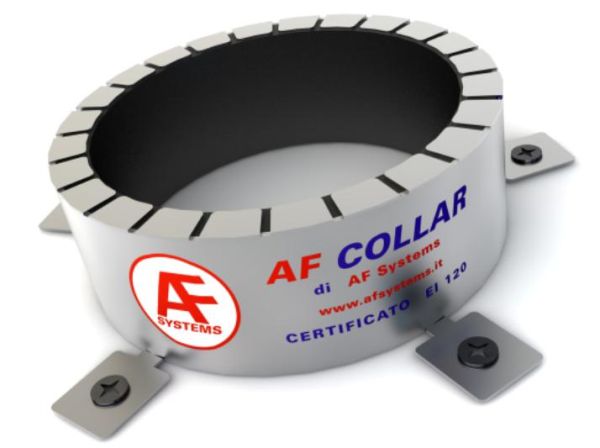 AF COLLAR is a fire-rated element designed to grant EI 120 / EI 180 (according to EN 1366-3) to walls and floors passed through by combustible and insulated metal pipes.
It is made of stainless steel and contains internally one or more layers of intumescent material (depending on the diameter of the pipes).
When a fire occurs, the combustible material suffers a deformation and gradually disapears. Meanwhile the intumescent material expands, blocking thus the passage of smoke and flames.
Field of application:
The AF COLLAR have been tested on:
Combustible pipes (PVC, PP, PE, ABS)
Combustible pipes with a maximum slope of 45°
Combustible pipes containing electric cables
Insulated metal pipes
Double layer of AF PANEL
INFORMATION REQUEST
Fill out the form to request information from AF SYSTEMS S.R.L