Published on luglio 10th, 2014 | by Sara Leonardi
0
Via Statale 467, 73 - 42013 Casalgrande (RE)
Phone +39 0522 9901 - Fax +39 0522 996121
KERBLOCK

Made in Italy
Linea Pietre Native – the Kerblock range
With the new Kerblock range in its Pietre Native line, Casalgrande Padana expands into the area of extremely safe and strong outdoor raised floors (Open System).
With an increased 20 thickness, a large 60×60 cm size and a no-slip bush-hammered surface finish, these products are made of fully vitrified fine stoneware that perfectly meets the functional requirements of outdoor floating floors, such as balconies, terraces, walkways, pool edges, pedestrian roofs, etc.
These single-gage squared and ground Kerblock slabs are laid with no mortar on special black polypropylene brackets to create a raised foot area, with a variable-level engineered cavity underneath. Easy to inspect for any assembly, maintenance or cleaning of the covering or beds, the finished system lets rainwater flow away smoothly to prevent seepage, stagnation, frost or rising damp.
In addition to the requisite weather-, frost- and thermal- resistance, colourfastness, chemical resistance and waterproofing, the Kerblock slabs meet safety requirements for their non-slip surfaces (R11 rating in DIN 51130 and class C in DIN 51097) and have a high ultimate strength of approximately Kg 650 (Class U11 in NF EN 1339).
Designed for residential, commercial and industrial applications, the Kerblock range is available in neutral colours (ivory, beige and lead), so they will perfectly fit in with any architecture or area. Supported by a complete range of Open System accessories, these ceramic products deliver outstanding quality even in terms of installation, as they can meet specific design or customisation requirements.
Because of their construction and performance, these slabs may also be directly installed on a lawn or other strong ground, provided it is properly primed, flat and strong enough to bear the weight of the slabs and the expected pedestrian traffic: for example, a well-compacted, stabilised granulometric bed with variable grain size – from sand to gravel –.
In these cases, a spacer is put between the slabs, wide enough to prevent the slabs touching each other, so as to prevent chipping.
As for all Casalgrande Padana's products, the Kerblock range is outstandingly environment-friendly. The company has actually always been focussed on the search for innovative technology to produce high-performance but low-impact products, as proven by its ISO 14001 and EMAS certifications.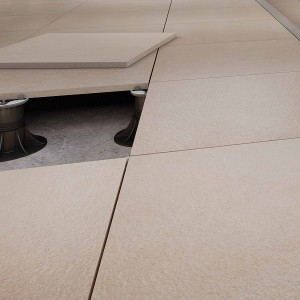 Technical and performance specifications
Product type: Linea Pietre Native
Rating: Fully vitrified BIa (UNI EN 14411-G, ISO13006).
Size: 60×60 cm.
Thickness: 20 mm.
Colours: ivory, beige, lead.
Finish: bush-hammered surface.
Size and appearance: minimum tolerance as 1st choice (UNI EN ISO 10545-2).
Water absorption: ≤ 0.1% (UNI EN ISO 10545-3).
Ultimate strength: Kg 650; class U11 (NF EN 1339)
Flexural strength: N/mmq 50÷60 (UNI EN ISO 10545-4).
Frost resistance: guaranteed (any standard).
Chemical resistance (except hydrofluoric acid): no alteration (UNI EN ISO 10545-13).
Wear- and abrasion-resistance: high
Linear thermal expansion: 6.6×10-6 (UNI EN ISO 10545-8).
Stain resistance: guaranteed (UNI EN ISO 10545-14).
Slip resistance: R11 (DIN 51130).
Colourfastness: no alteration (DIN 51094).
Applications: outdoor raised floors, floors on lawns or suitable grounds.
Areas of application: residential, public, service, utility and commercial buildings, new builds and renovations.
All Pietre Native slabs have been tested and certified to national and international standards and have always exceeded their quality requirements.
Tags: Casalgrande Padana, Ceramic floorings, floor, Kerblock, Pietre Native line
INFORMATION REQUEST
Fill out the form to request information from CASALGRANDE PADANA S.P.A.